Tools & Solutions that SuperCharge Encompass
More than 100 top lenders use our tools to solve biggest pain points in Encompass Administration, Customization & Operation.
With these tools, you can significantly increase your Encompass ROI: Improve compliance, reduce time to close loans, and focus on business growth instead of chasing fires. These tools will literally transform your Encompass into a Ferrari!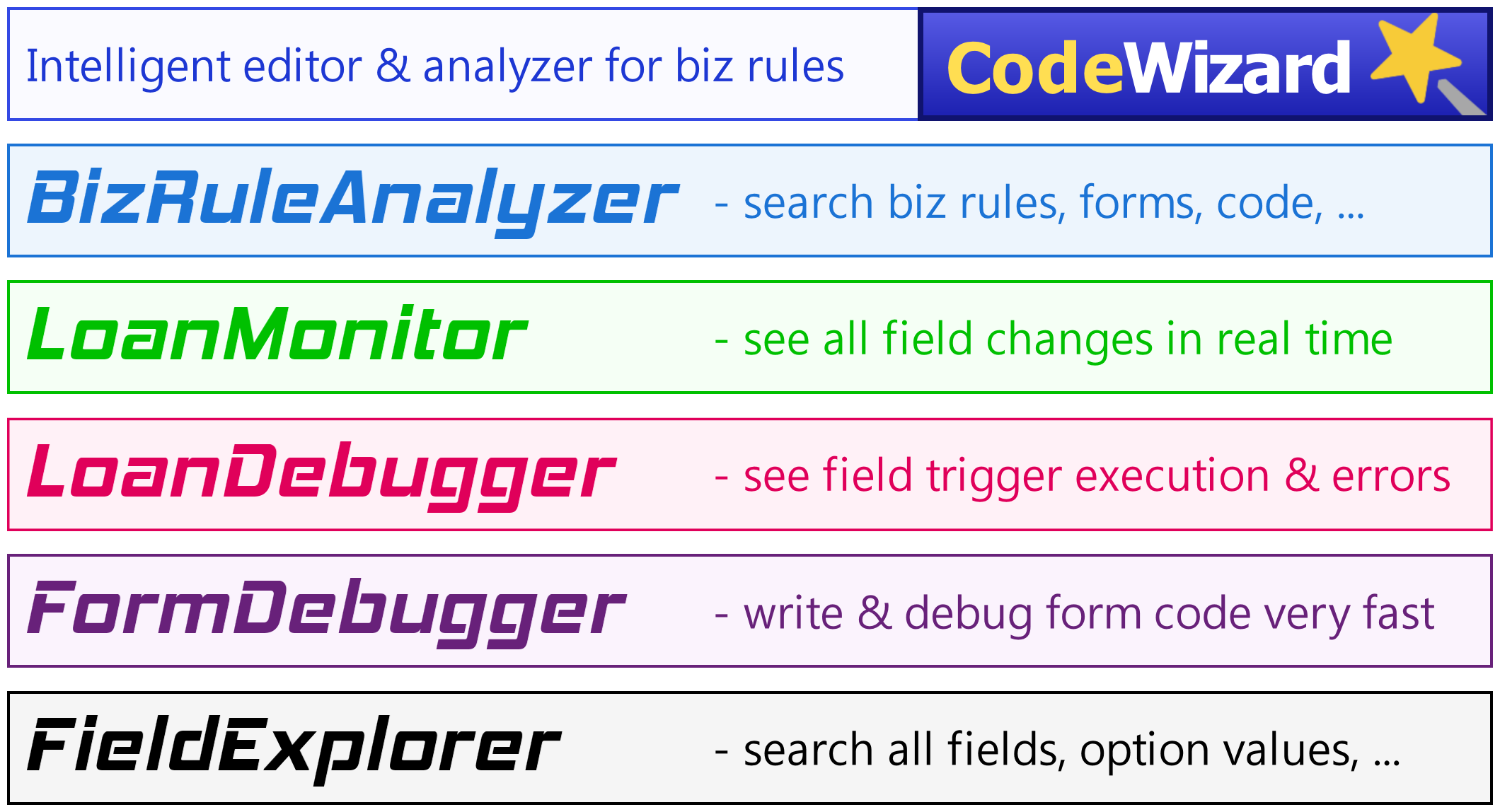 Encompass Versions and Field Changes
| | | | | | |
| --- | --- | --- | --- | --- | --- |
| Encompass Version | Fields | Added | Removed | Changed | Major New Field Areas |
| Encompass 7.0 (11/2011) | 14,472 | | | | |
| Encompass 8.1 (06/2013) | 20,931 | 6,459 | | 745 | Rate Locks, Fees, Disclosures |
| Encompass 9.1 (01/2014) | 24,214 | 3,283 | | 9 | ATR/QM & Milestone Templates |
| Encompass 14.2 (08/2014) | 24,441 | 227 | | 25 | TPO, Rate Locks, Disclosures |
| Encompass 15.1 (06/2015) | 30,002 | 5,565 | 4 | 79 | TRID, Disclosures, LE, CD |
| Encompass 15.2 (12/2015) | 30,121 | 263 | 144 | 175 | ULDD, Rate Locks |
| Encompass 16.1 (04/2016) | 30,340 | 219 | | 180 | AUS, FHA203k |
| Encompass 16.2 (07/2016) | 31,867 | 1,527 | | 4 | AUS, CD, 13xx Fees |
| Encompass 16.3 (10/2016) | 31,401 | 186 | 652 | 6 | Removed some CD fields |
| Encompass 16.3.2 (12/2016) | 31,410 | 9 | | | eConsent Request Dates |
| Encompass 17.1 (01/2017) | 31,507 | 97 | | 45 | Correspondent, Interim Servicing |
| Encompass 17.2 (04/2017) | 31,690 | 183 | | 29 | HMDA, Borrower, Coborrower |
| Encompass 17.3 (07/2017) | 31,967 | 277 | | 39 | CD, Escrow, AUS Tracking, FHA 203k |
| Encompass 17.4 (10/2017) | 32,058 | 91 | | 48 | New HMDA, CD fields |
| Encompass 18.1 (01/2018) | 32,152 | 94 | | 15 | New HMDA, Rate Lock fields |
| Encompass 18.2 (04/2018) | 34,220 | 2,068 | | 14 | Rate Locks, Consumer Choice, VOD/VOI, KBYO, TPO, UWC |